<![if !vml]><![endif]>Statistics

Height (m):

65.5

Drop (m):

62.8

Inversions:

0

Speed (kph):

115.9

Angle Of Descent (degrees):

90

Capacity (riders per hour):

1000
| | |
| --- | --- |
| Features: | Elements: Vertical loop and twin corkscrew. |
| History: | Non-riders can walk directly underneath the ride as its track spans the midway. |
Corkscrew
You'll flip over this coaster! The Corkscrew roller coaster at Cedar Point amusement park/resort was the first coaster ever to span a midway and the first to flip its passengers upside down three times! Debuting in America's Bicentennial year of 1976, this patriotic scream machine proudly displays its red, white and blue trains as they twist and turn above the crowds standing in awe on the midway below.

When riding the Corkscrew, try to keep your head off of the shoulder restraints, particularly if you are wearing sharp earrings. The ride is known for a little head banging through the screws. Also, if you sit in the front seat, you'll get huge airtime over the short hump before the first loop, and at the top of the straight-away following the loop.
Demographics

Park:

Type:

Steel

Status:

Operating since 5/15/1976

Make / Model:

Designer:

Cost:

$1,750,000











Even seasoned coaster enthusiasts who have not had a lap on this ride are a little surprised by it!

Statistics

Length (m):

624.8

Height (m):

25.9

Inversions:

3

Speed (kph):

77.2

Duration (m:ss):

2:00

Capacity (riders per hour):

1800
Another aging coaster, we quickly forget that there was only one other like it when it opened in 1976. The Corkscrew is an historical roller coaster. Many coasters inspired by it were built all over the country. This particular one was the first to have three inversions.
The Corkscrew makes a great backdrop to the midway. For years it was a symbol of the park, since it is aesthetically pleasing as seen from the midway.
Possible Wait Times
Usually a walk-on, but waits can get up to 30 minutes on a very busy day.
<![if !vml]>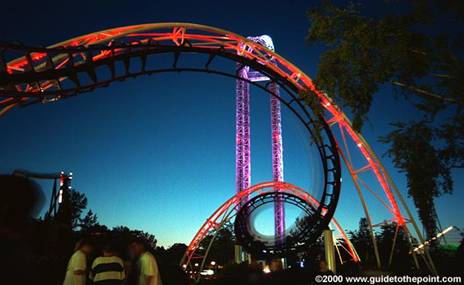 <![endif]>