tatistics

Length (m):

1199.4

Height (m):

38.2

Drop (m):

36

Inversions:

0

Speed (kph):

96.6

Duration (m:ss):

2:20

Angle Of Descent (degrees):

55

Capacity (riders per hour):

1650
<![if !vml]>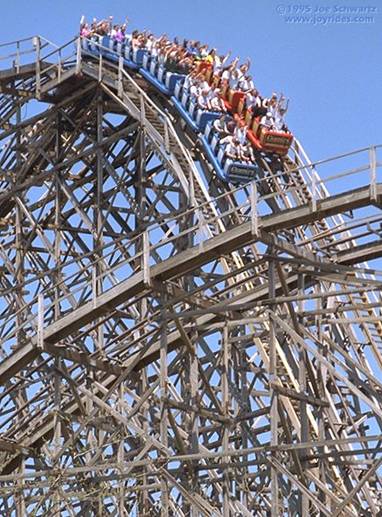 <![endif]>
Gemini
<![if !supportLineBreakNewLine]>
<![endif]> In 1978, Gemini was the tallest and fastest roller coaster in the world. Today, this racing coaster gives more rides to guests than any other at Cedar Point. Red and blue trains begin their race as they climb the 125-foot lift hill.

Dropping 118 feet at 60 mph, riders experience a head-chopping effect as they pass under a support beam.

Riders continue through the figure-eight course, with drops, lots of airtime, and hand slapping with riders on the other train.

The ride ends with the trains separating and each train spiraling through it's own helix.
<![if !vml]>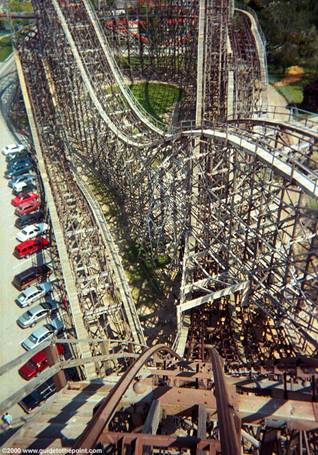 <![endif]>
Vehicles

Arrangement:

6 trains with 5 cars per train. Riders are arranged 2 across in 3 rows for a total of 30 riders per train.

Height restriction:

Riders must be 121.9cm or taller to ride.

Notes:

Fiberglass coaches with lap bar and nylon wheels.





<![if !vml]>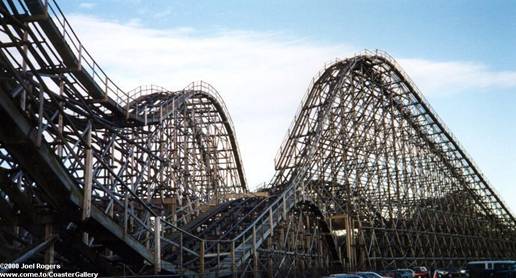 <![endif]>
Many may argue that it was really Gemini that started Cedar Point on its way to having a reputation for the biggest coasters on the planet. When the coaster was installed in 1978, it opened as the tallest and fastest, a trend that still follows in Cedar Point development to this day. It's not the biggest coaster in the park, but it sure is a great time with little wait.
Gemini, while dwarfed by Cedar Point's newer coasters, still stands as an impressive roller coaster. The twin racing trains move so many people at a time that there is almost never a wait. And you won't find a much smoother coaster from this era of coaster construction.
| | |
| --- | --- |
| Structure: | Wooden structure in figure-eight configuration. Western fir from Washington and Oregon. Approximately 600,000 board feet. Tubular steel track. |






This great mass of steel and wood feels great (because the actual running surface is steel, this is considered a steel coaster). The hills are steep and the slow turns are great for yelling at the people in the other car. There are even a couple of hills that convincingly look like you should keep your hands (and head) inside the car at all times, in fear that you'll lose them.
When you reach the platform, you might have to push past people to find the empty seats near the middle of the train.