<![if !vml]>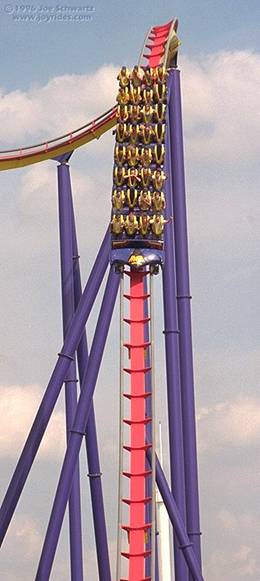 <![endif]>
A standing ovation!
Cedar Point amusement park/resort, home to the largest collection of rides and roller coasters on Earth, is also home to Mantis, one of the tallest, steepest and fastest stand-up roller coasters in the world.
Possible Wait Times
For whatever reason, Mantis usually has one of the longest waits in the park, usually all day long. The waits are usually 45 minutes-1 hour on a busy day, but can exceed one hour.







Towering a whopping 145 feet above the ground, this gigantic steel scream machine takes its passengers along 3,900 feet of twisting, turning track at a hair-raising top speed of 60 mph! Passengers board high-tech trains that send them upside down four times - all while standing up!
<![if !vml]>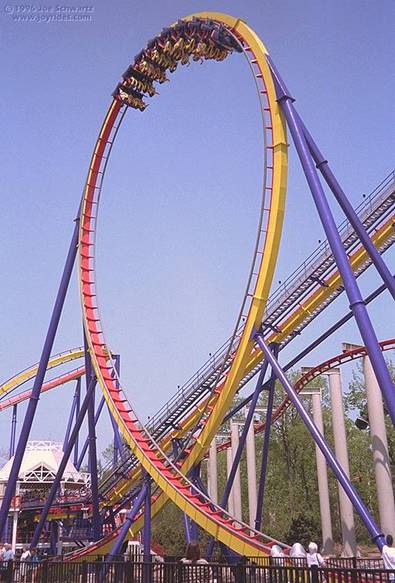 <![endif]>
Demographics

Park:

Type:

Steel

Status:

Operating since 5/11/1996

Make / Model:

Categories:

Cost:

$12,000,000
Statistics

Length (m):

1188.7

Height (m):

44.2

Drop (m):

41.8

Inversions:

4

Speed (kph):

96.6

Duration (m:ss):

2:40

Angle Of Descent (degrees):

52

Capacity (riders per hour):

1800
Vehicles

Arrangement:

3 trains with 8 cars per train. Riders are arranged 4 across in a single row for a total of 32 riders per train.

Restraints:

Height restriction:

Riders must be 137.2cm or taller to ride.
Mantis would be interesting enough if you were sitting down because of the unique loop elements that run the entire length of the track. The first hill aside, there really are no straight-aways on the entire ride. As soon as you come out of one turn or inversion, you're into the next one. Most of the turns are extremely tight. It's hard to believe that the entire track rests on such a small footprint of land.
It is really important that you relax on this ride, so as not to create undue pressure on your legs. Be sure to keep your legs as far back as possible. Don't lean into the seat, as you would against a wall, but stand up totally straight. When you go flying through the turns in the second half of the ride, it can actually hurt your legs if you try to lift them up as the centrifugal force pulls them into the floor. We've found that actually leaning forward in to the harness, feet all the way back, is most comfortable.<![if !vml]>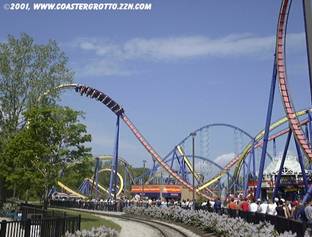 <![endif]>

<![if !vml]><![endif]>Features:

Six elements: 119-foot-tall vertical loop,
103-foot-high dive loop,
heavily banked 360-degree turn,
83-foot-tall inclined loop,
360-degree flat spin and a figure-eight finale.
<![if !vml]>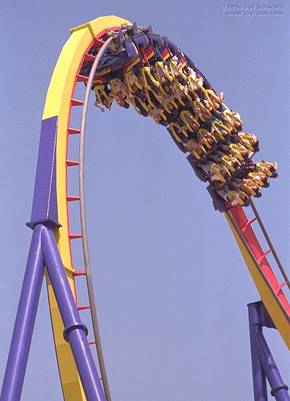 <![endif]>