<![if !vml]>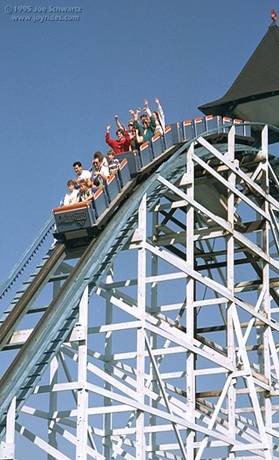 <![endif]>
Blue Streak

The Blue Streak is a landmark. It wasn't all that long ago that the brake on the platform was operated by a huge lever. The operator had to be skilled enough to park the train in line with the oncoming riders.
Statistics

Length (m):

779.7

Height (m):

23.8

Drop (m):

21.9

Inversions:

0

Speed (kph):

64.4

Duration (m:ss):

1:45

Angle Of Descent (degrees):

45

Capacity (riders per hour):

1400










Blue Streak holds a special place in many hearts as the oldest standing coaster at Cedar Point. You can't mention Cedar Point to my vertically challenged aunt without her telling you that she was almost tossed from the ride when she was younger. Millions have experienced the ride, named after a local high school mascot.
<![if !vml]>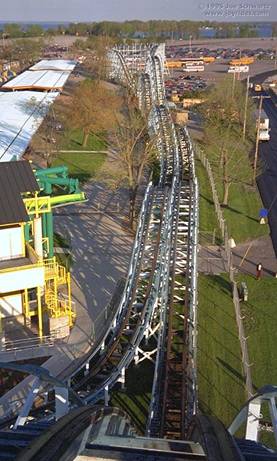 <![endif]>
Demographics

Park:

Type:

Wooden

Status:

Operating since 5/23/1964

Designer:

Builder:

You can get significant airtime on this coaster.
I have found that if you give yourself some room with the lap bar and the operator doesn't jam it through your pelvis, you can enjoy nearly standing status on the majority of the ride.
| | |
| --- | --- |
| History: | Preliminary footers designed by John Allen. Frank Hoover designed the remainder. |




Blue Streak is maintained well enough that it almost guarantees a good ride.
We're proud to have this classic in our
Possible Wait Times
On a busy summer day, waits may be around 30 minutes up until noon or one o'clock,
but usually under a 15 minute wait.
<![if !vml]>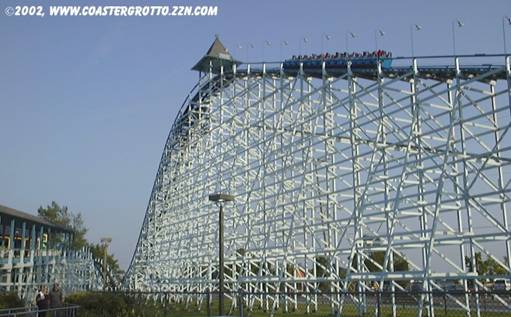 <![endif]>
favorite park!
For the greater good, I suppose, the seats are a bit more restrictive these days. The trains have been heavily modified from their original state, which did not include seat dividers or high seat backs. Still, the Blue Streak is another stunning example of Cedar Point's rich history.
Blue Streak was recognized by ACE (American Coaster Enthusiasts) as a classic coaster.
In 1995 Cedar Point updated Blue Streak by putting in a new ride computer (replacing the manual brakes), headrests on trains and individual laps bars. The updating made Blue Streak lose the recognition as being a classic coaster. Even with the updated trains the ride is still great. For the 2001 season Blue Streak has been retracked.
Seven hills are filled with killer floater airtime. Some people may think Blue Streak is rough, but hey, it is a wooden coaster.

<![if !vml]>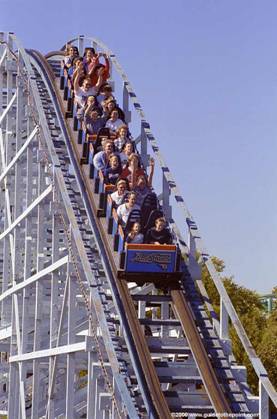 <![endif]>


A classic roller coaster!

Built in 1964, the Blue Streak roller coaster is the oldest operating scream machine at Cedar Point amusement park/resort.
Standing a majestic 78 feet tall, the Blue Streak, named after a local high school football team, treats its passengers to an exciting ride that features negative G-forces, fast hills and quality "airtime."

Located just off the Main Midway, the Blue Streak has given more than 50.8 million rides since it first debuted 38 years ago. Last year alone, 988,482 guests enjoyed a ride on this historic "woodie."
<![if !vml]>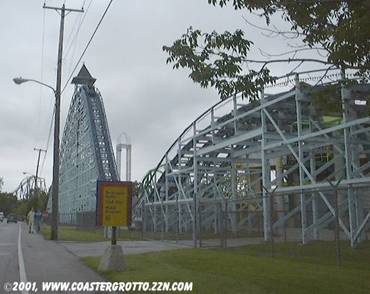 <![endif]>