<![if !vml]>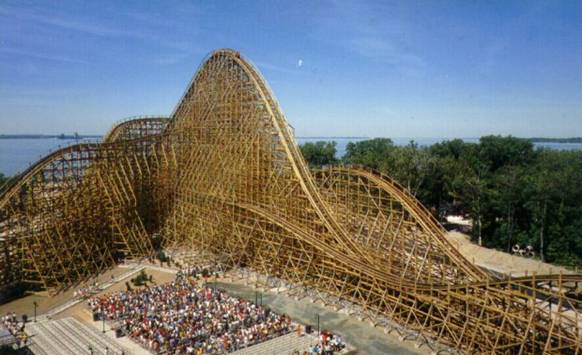 <![endif]>Mean Streak
A wild "woodie." The Mean Streak roller coaster at Cedar Point amusement park/resort is as much a marvel to look at as it is a joy to ride. Built from 1.7 million board feet of treated Southern yellow pine and standing a monumental 161 feet tall, the Mean Streak is one of the two wooden roller coasters that grace the skyline of "America's Roller Coast."
<![if !vml]>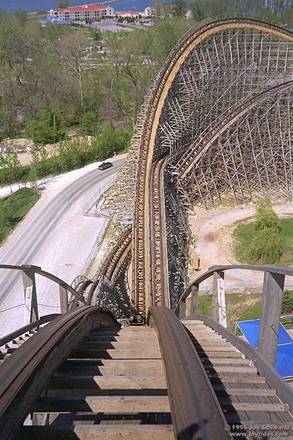 <![endif]>The Mean Streak gave 1,085,154 rides in 2001 and more than 14.4 million rides since 1991.
Demographics

Park:

Type:

Wooden

Status:

Operating since 5/11/1991

Designer:

Builder:

Cost:

$7,500,000
Statistics

Length (m):

1654.1

Height (m):

49.1

Drop (m):

47.2

Inversions:

0

Speed (kph):

104.6

Duration (m:ss):

3:13

Angle Of Descent
(degrees):

52

Capacity
(riders per hour):

1600

In 1991 Cedar Point built the world's tallest and fastest wooden roller coaster and they
decided to call it Mean Streak. Mean Streak is perhaps one on the most beautiful
coasters during the day and at night. The ride itself is far from beautiful.
Like the name says, this coaster is surely "mean".

The coaster layout is different than most coaster layouts. It is a huge wooden twister. The layout is packed with tight turns and quick drops. Mean Streak is even better at night. By night the track is slick, making it a faster ride. Not to mention the coaster is lit beautifully at night.

Over the years Cedar Point has tried to smooth out Mean Streak. They reprofiled and added brakes to the first drop. The brakes slow the ride. Almost every year Mean Streak is retracked(wood is replaced)..


<![if !vml]>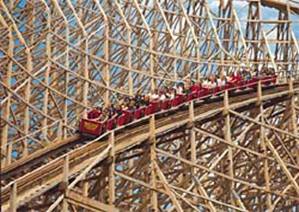 <![endif]>
Mean Streak has a storied history of roughness,
but some of the discomfort often associated with
the ride is caused by the seats themselves.

The hard rubber transmits every last vibration
right to your spine.

You can ride it fairly well if you pull your
back off of the seat, but that's less than ideal.

<![if !vml]>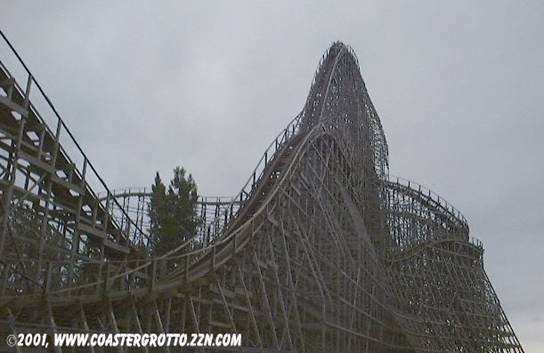 <![endif]><![if !vml]>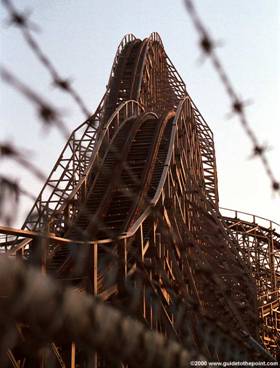 <![endif]>
Also Mean Streak has a full time carpentry staff. Every morning that the park is open, the carpenters walk the ride and fix anything that needs to be repaired
The Mean Streak, a beautiful wooden roller coaster in Frontiertown, is as much fun to watch as it is to ride. Built in 1991, in opened as the tallest and fastest wooden roller in the world. The coaster takes rider up to 161 feet and drops them at a maximum speed of 65mph.
<![if !vml]>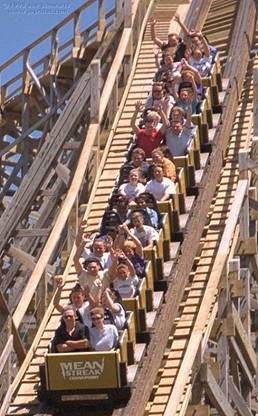 <![endif]>If you want the feeling of complete chaos, this is the coaster for you. Mean Streak offers a feeling you don't find much anymore: danger. Because wood "gives" a bit more than steel, you can see the structure actually flex when a train flies through a banked turn.