The amusement park in northern Belgium became a big player in the European park scene during the last 32 years.
The basis of its success is the mixture of unique attractions and thrill-packed rides: Visitors can anticipate six roller coasters and four water rides in the 2004 season. In addition, the "green" park built around a central lake offers a wide variety of fun for the small ones.
Having opened the first enclosed play area for children in the mid-90s Bobbejaanland can be seen as the inventor of indoor playgrounds.

Typhoon den andra 95° Roller Coastern ifrån Gerstlauer (den första var Vild Svinet)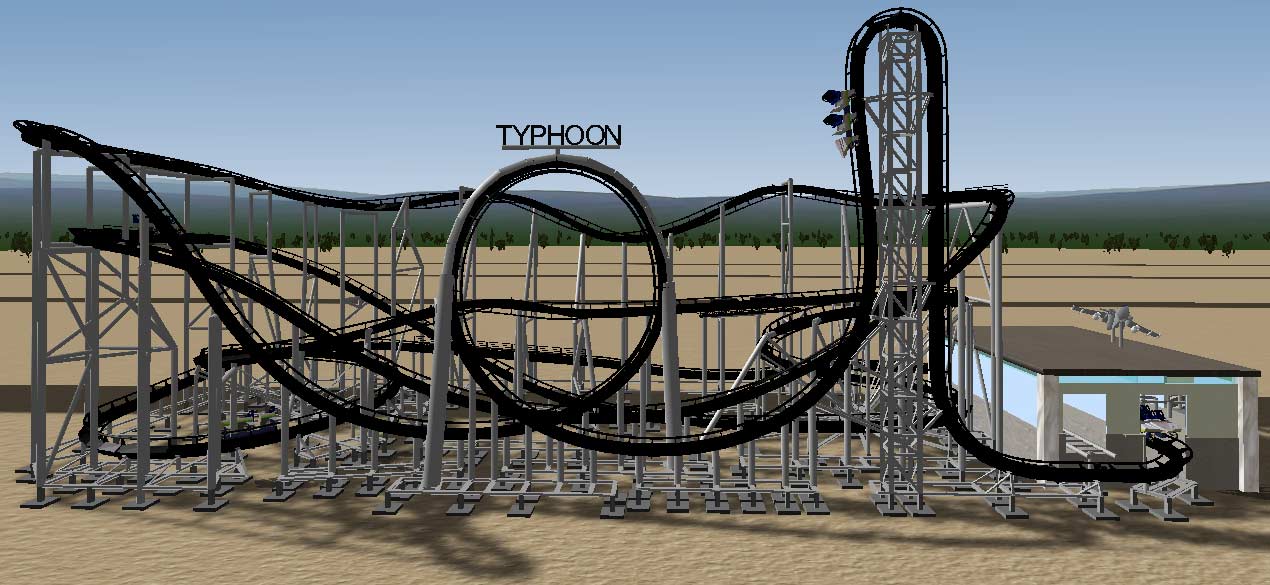 | | | |
| --- | --- | --- |
| | This looping coaster is Gerstlauer´s second delivery of the Euro-Fighter model after the very successfull premiere of Vild Svinet in BonBon Land, Denmark. Unlike this coaster the one at Bobbejaanland will have a very compact layout, offering the furious first drop as well as four inversions. The adrenaline rush starts when the car leaves the station themed in space style, climbing up the impressive vertical lift and going down the 97-degree drop before it negotiates a vertical loop and three heartline-rolls. More information and pictures about Vild Svinet can be found here! Please note that this article is German only. | |
In the upcoming off-season many coaster enthusiasts will have a closer look at the Belgian Bobbejaanland, where Typhoon will be one of 2004´s most spectacular novelties.

Coastersandmore.de will exclusively portrait the works with a series of articles - From the first idea to the grand opening.


Other Information
Structure:
Area: 57meters x 29 meters.
Features:
Vertical lift.


Se en animerad video på Typhoon


Vehicles
Arrangement:
8 cars. Riders are arranged 4 across in 2 rows for a total of 8 riders per car.

Jacky Schoepen, junior director of Bobbejaanland, was looking for an adequate successor for his 24 year old Schwarzkopf Looping Star for quite a while.
He wanted another looping coaster, but it should be something special.
On a tradeshow he saw a model at the booth of the German company Gerstlauer, and the concept with its special kick directly appealed to him: Single cars climb a tower-like structure, pass the top and dive down in an angle of 97 degrees - steeper than vertical!
Almost two years later the preparations in the park and at the manufacturer gain speed: Engineers calculate the dynamics, the cars are being built and the track is being bent - The coaster has to be operational on April 3rd, the first day of the 2004 season. In November 2002 the contract was signed,
in early 2003 the engineers began with their work and now the project "Typhoon" reaches its final stage.

Oki Doki en till ny Berg & Dalbana 2004
The contract between Bobbejaanland and Vekoma has been signed.

2004 will bring a new rollercoaster to Bobbejaanland: a big rollerskater-ride.

Other Information
Features:
Extended camel back hill and junior butterfly. Magnetic brakes.

The lift hill will bring its passengers to a 17m heighth, facing to the monorail-station at Indiana River.

You take a dive on your left side, turning to the old time tunnel, passing the monorail and the path.
Then you will ride through a 'Butterfly', a combination of curves.

The train is now heading to the lake, makes a final turn over the water and then it runs into magnetic brakes.

Max. lateral G-force 0.6G

Se en animerad film på Okidoki
This coaster is the next generation Junior Coaster of Vekoma with a unique custom layout and a length of 435 meters. The coaster will be delivered with 2 trains, magnetic brakes, custom bodies and individual lapbars, suitable for youngsters from 38 inch (0,95 cm) to adults up to 81 inch (2.05 m).
The Junior Coaster will be situated along the lake, close to "Kinderland".
Det är inte bara 2 nya Roller Coasters som Bobbejaanland öppnar 2004

Det blir en Jätte Frisbee också ifrån Huss, en likadan öppnade i Paramount King Island 2003

Det verkar som 2004 är rätt år att besöka Bobbejaanland
Air Race
This suspended coaster looks really impressive. Its scaffoldings are put up in a lake. The Airrace is situated at the North of the park, past the cowboy village.

Riding the coaster gives a nice overview of Bobbejaanland.

Onces boarded, its a hit. For the kick-lovers, it might be a soft attraction, others consider it to be a nice experience.

The ride runs smoothly, even when the airplaines sway, as all happens quite controlled.
Vehicles
Arrangement:
2 trains with 6 cars per train. Riders are arranged 2 across in 2 rows for a total of 24 riders per train.




Special Elements
Aeroplane cars
Theming

S

ituated above a lake
Average waiting time
35 minutes
Vehicles
Arrangement:
Single train with 30 cars. Riders are arranged inline in 2 rows for a total of 60 riders.

Other Information
Structure:
Area: 48 x 48 meters.
Features:
Inside of the building/hall there are two movie screens illuminated by 70mm projectors -- one on the ceiling and on the floor. The track circles around these screens. Sometime around the 2000 season, the screen on the floor was removed and replaced with lights.

Revolution
This is a very unique indoor coaster.
The train is climbing in large cirkels, and at the same moment you can see a movie playing at the top of the building.
Once you're at that top, be sure to be ready for the way down, a way filled with effects.
No hard accelerations, but a rather unique experience in the dark. Absolutely a must!





| | | |
| --- | --- | --- |
| Special Elements | | Spiral lift hill |
| Theming | | Travel through time and chaos |
| Average waiting time | | 20 minutes |
| | |
| --- | --- |
| Special Elements | Dual track coaster |
| Theming | Wooden style |
| Average waiting time | 20 minutes |

Speedy Bob
Speedy Bob is a lot more than just an ordinary
Wild Mouse.
This one has two tracks, and they are real good synchronised to almost hit each other.
This coaster has been placed between the Cowboy-village and El Rio.

Vehicles
Arrangement:
10 cars. Riders are arranged 2 across in 2 rows for a total of 4 riders / car

Other Information
Structure:
Base: 44 x 19 meters (each).
Features:
The Speedy Bob is two Mack built Wild Mice positioned next to each other. The two mice built as mirror images of each other. This entry is for the left mouse which is the standard version as the lift is usually on the right hand side of a Mack Wild Mouse. (Speedy Bob ger 2 RC poäng om man åker båda)
History:
Cost: 150 million Belgian Francs ( 3.750 million euros) for both Speedy Bob roller coasters..
Other Information

History:

Cost 3.35 million euro.

| | |
| --- | --- |
| Special Elements | Locomotive |
| Theming | Mountains of the waterslide |
| Average waiting time | 20 minutes |

Bob Express

Bob Express is a train which is guiding its visitors through the mountains of the waterslide.
You are treated on some fun helixes, and two laps.

Coaster

Min

Type

Opened

Status

120 cm

Steel

1987

100 cm

Steel

6/15/2000

100 cm

Steel

1979

110 cm

Steel

2004

110 cm

Steel

1989

Speedy Bob Höger

120 cm

Steel

7/2/1998

Speedy Bob Vänster

120 cm

Steel

7/2/1998

130 cm

Steel

2004
Länkar
ThemeParkVision