Dag 3 Måndag 13/6

När vi vilat en natt på Hampton Inn Allentown

är det dags att åka

ungefär en mil

till

Dorney Park.

Parken som startade redan 1860 har idag fler en 100 attraktioner och är både en vatten park och en nöjespark med ett entré pris.

Här finns det en ny golvlös bana som heter Hydra The Revenge.

Förutom Hydra finns det 8 banor till totalt 9 stycken alltså.

I parken finns det 40 stycken matställen varav 3 stycken är "riktiga" restauranger.

The Mill Chute - 1927

Steel Force en mega coster ifrån 1997.
Bakom ser man den enda träbanan i parken, Thunderhawk

25 meter hög ifrån 1923

Genomsnitts priset
på en måltid är ca:7$.
Alfundo the Clown - 1970:s
De stora attraktionerna på Dorney Park
Mer info om parken finns på www.dorneyonline.com en icke officell webb site.



Patriots Plunge
<![if !vml]><![endif]>
Two guests at a time challenge each of three tubing slides from atop a 52-foot-tall tower. One slide is red, one white and one blue, and each is a combination of enclosed aquatubes and giant slides that offers an unpredictable journey ending in a big splash.

Aquablast
One of the longest elevated water slides in the world, Aquablast stands 70 feet tall. Gigantic multi-person rafts wind and twist through steep banks and curves before splashing into the pool below.
<![if !vml]><![endif]>

Wildwater Rapids
<![if !vml]><![endif]>
Located at the 40-foot level of the Patriot's Plunge tower, Wildwater Rapids is a set of four brightly colored body slides. Two are enclosed slides, two are open-iar slides, and all four take guests on a twisted trip to the splash-pool below.

Jumpin' Jack Splash is 30-foot-tall tower with three brightly colored twisting body slides. One enclosed aquatube and two open-air slides offer guests a slip-sliding adventure with a refreshing finish in the splash pool below.
<![if !vml]><![endif]>
Dag 4 Tisdag 14/6

Efter ytterligare en natt på på Hampton Inn Allentown är det dags att åka de 10 milen
till Knoebels.

Knoebels är en legendarisk park, inte för att det finns dom största, snabbaste, dyraste, flesta eller ens dom längsta attraktionerna här.

Alla med insyn och kunnande i nöjesparks branschen säger att detta är en favorit park.

Information
Knoebels


Öppet

11.00-20.30

Park Karta

PDF

1

Loopar: 0

2

Km bana: 2,2

Totalt

3

Total höjd m: 60

Theme Park biljetter

Knoebels is always FREE Admission!

Ride All Day

Basic Rides

$25.50

Basic & Wood Coaster Option

$31.00

Under 48" Tall

Basic Rides

$17.00

Basic & Wood Coaster Option

$21.00

Sundown Plan Begins at 4:00 p.m.

Basic Rides

$14.50

Basic & Wood Coaster Option

$18.50
Knoebels är en klassisk park med fri entré och separat betalning för varje attraktion.

På senare år har man börjat sälja åk-hela-dan pass, men bara på lågsäsong.

Parken har en historia som sträcker sig ända tillbaka till 1775.

1828 köpte Pastorn Henry Hartman Knoebel för 931 dollar.

Till en början tog Henry 25 cent för att man skulle få ge sina hästar vatten och foder.
Efter en tid byggdes det picknick bord och senare bestod aktiviteterna av picknick, bad, glass, popcorn, nötter, drycker och korv försäljning, man hyrde dessutom in en livräddare till att kolla badgästerna.

1926 var året då Knoebels Amusement Resort formelt grundades.

Bygget av gigantisk en gigantisk pool startade redan 1925.
Poolen öppnade den 4 juli 1926, poolen blev med tiden enormt populär, även den första åkattraktionen kom 1926, en ångdriven karusell.

Samma år kom också parkens första restaurang och några olika spel.

Efter besöket i parken tar vi oss 10 mil söderut till choklad meckat Hershey nära Harrisburg fortfarande i Pennsylvania för att tillbringa 2 nätter på Hampton Inn Harrisburg/Hershey.

Knoebels offers world class rollercoasters that take you to great heights, twist you and turn you upside down. Or feel the thrill of falling on the Downdraft. Like music while you spin? Try the Cosmotron.

No matter what you choose - you'll find your thrills at Knoebels.

<![if !vml]><![endif]>


T

he Phoenix was originally built by the Philadelphia Toboggan Company in 1947 as the Rocket at Playland Park in San Antonio, TX, which sadly closed in 1980.

In 1984 Dick Knoebel purchased The Rocket and a year later he hired Charles Dinn to relocate and reconstruct this classic wooden coaster at Knoebels Amusement Resort.

The Phoenix opened on June 15, 1985



Thanks to the tireless efforts to preserve this roller coaster, enthusiasts can continue to enjoy one of the world's best wooden roller coasters.

Phoenix is consistently ranked in the top ten wooden coasters in the world.
The double out and back layout features great drops and plenty of airtime filled hills including the double up, double down and the bunny hops on the return run to the station.

Phoenix continues to run with classic PTC three bench trains with fixed position lab bars.

It was the first time a coaster was moved in the modern era. It was rechristened the Phoenix, since reborn out of ashes. The Phoenix opened on June 15, 1985 and has made numerous Top Ten lists ever since.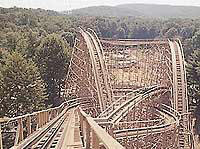 <![if !vml]>

<![endif]>
The newest addition and the largest of Knoebels rollercoasters.


The Twister is sure to give you an extreme ride with all the excitement you would expect from a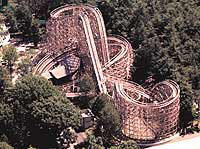 world class coaster. From soaring heights and vertical drops to multiple twists and hairpin-like corners, you'll certainly get your thrills from this wooden rollercoaster.

The Twister has the sharpest vertical drop and longest ride time, and gives you the added rush of an underground tunnel.

Design - 1964 Original & 1965 Modifications - John Allen; 1999
Modifications - John Fetterman Construction - Built by Knoebels staff Highlights & Oddities - Switchback lift hill folded on top of itself; curved brake run, curved station; in-ground tunnel.
High Speed Thrill Coaster

Built by the Overland Amusement Co. of Saugaus, MA and opened in 1955. This is believed to be the only operating Overland Coaster left in the world.

Fandango Ny 2005
Try this gravity-defying thrill ride that is sure to make you lose your senses. This vertical ride is the newest addition to the Knoebels thrill rides.


Downdraft



The Downdraft gives an
incredible freefall while spinning
at speeds of over 14rpm!
Manufactured by
Dartron of Salem, Oregon.
The Satellite
This spectacular ride will move you in every direction! Actually an Eyerly Aircraft Roll-O-Plane,

The Satellite was moved from Kennywood Park, Pittsburgh,
in 1954.

Klicka på bilderna för att se dom stora

The Power Surge

The Power Surge twists and turns you and gives you the ultimate sense of freefalling.

Built by Zamperla of Italy.

Super Round-Up


The Super Round-Up is a centrifugal force ride
that spins rapidly,
pinning you to the wall as the ride elevates.

Haunted Mansion

A terrifying ride through one of America's Best Haunted Houses.
When first building the Haunted Mansion, Knoebels intended it to be a Roller Rink.

Sky Slide

A wonderful slide that spirals down the outside of a rocketship!
Originally one of the first simulators,

The Rocketship XM-16 opened in 1955.

The ship was horizontal and consisted of a film (made by a local who became a Hollywood FX wiz) and hydraulics to make an up/down motion.

In 1964, the Sky Slide was moved in a vertical position, a spiral staircase built in, a wooden slide constructed around the structure. In 1988, the Sky Slide was moved from the location of the Galleon, to its current site in Kiddieland.


Flume
Get Soaked on the Flume! Two Giant Dips, Rapids, and a Cave, make this a Great Ride! Manufactured by O.D. Hopkins of Concooktook, NH, this ride required the cutting down of too many trees. Knoebels redesigned the ride so that a minimum of trees were removed. The lumber used in the station was milled on site from those trees that were felled. The Flume was introduced in 1990.


The original Roller Rink was heavily damaged in the 1972 flood, but was able to be rebuilt. It turned into a Haunted Mansion after all the footers were in place. Nearly all sets and tricks were built in house, while "Pretzel" cars and tracks were purchased from the (now defunct) Rolling Green Park of Sunbury, PA and West View Park in Pittsburgh, PA. It is an extremely popular ride, in fact, it has been rated by many park aficionados as the best Haunted House in the world. Opened June 30, 1973.

Flyer

You are the Pilot in this Exciting Ride! Considered as the Best Flying Skooters in the World!

Bumper Boats
Moved from Rocky Glen, Avoca, PA, in 1982.


Ol' Smokey
Ride a Real Steam Train that chugs around the park.
Built by Crown Metals of Wayno, PA and opened in 1960. The track has been moved several times since it has been opened.




The Sklooosh

The Sklooosh offers a gigantic splash for all of its riders!
You WILL get wet on this ride.
The Sklooosh was designed and built by O.D. Hopkins of Contookook, NH. It opened to the public in 1997.


Grand Carousel
Catch the Brass Ring on one of the largest and oldest Carousels in the world!

The Grand Carousel was built in 1912-1913 by Kramer Carousel Works in Brooklyn, NY.
The 63 horses were hand-carved by Master Carver George Carmel and uses a Looff machine
to spin the ride.

Knoebels bought the carousel on the first week of December, 1941 from Riverview Park in Rahway, NJ.

Knoebels is one of only a handful of parks that still offers the
Brass Ring for a free ride!




Merry-go-round #2

Commonly called the "Kiddie" Merry-go-round, it is by no means Kiddie.

This full sized Merry-go-round is the oldest ride at Knoebels, built by Stein & Goldstein in 1910. The horses are 2 abreast and includes 2 chariots.
Knoebels added it in 1976.

Skooters
Considered the best Skooters in the world, these classic machines will move faster, bump harder, and clang louder than any bumper cars anywhere.
Knoebels has had Skooters at Knoebels since the 1950's.
The current Lusse Auto Skooters were moved in 1963 from Rockaway's Playland.


Hand Cars

Children love this ride that allows the small rider to crank around a track. The Hand Cars were purchased from Hodge's Handcars in 1955 and additional cars purchased later from Lakewood Park in Barnesville, PA. Knoebels (and a partner) had purchased Hodges Handcars later and renamed it the KAR company.
Knoebels Award Winning Food !
It's been another year of awards for Knoebels including the award for Best Amusement Park Food in America for the 4th consecutive year!



At Knoebels we have a wide variety of food stands and restaurants located throughout our park. Choose from the Oasis Cafeteria, Phoenix Junction Steakhouse, award-winning pizza at Cesari's Pizza, or full dinners at The Alamo Restaurant. Or sample the many different foods at the International Food Court.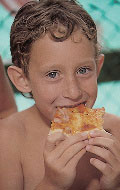 Within the park you'll also find snack favorites for everyone. We offer popcorn, pickles, ice cream, cotton candy, candied apples and many other tempting delights.
Yearning to try something different? Exotic treats like Ostrichburgers or Bison sandwiches are available for the more adventuresome. Vegetarian meals also can be found at various food stands. No alcoholic beverages available, nor allowed in our park.