Cedar Point med Hotel Breakers framför vi bor i längst till höger i BonAir annexet
(Använd musen och klicka för att få mer information om det som syns på bilden)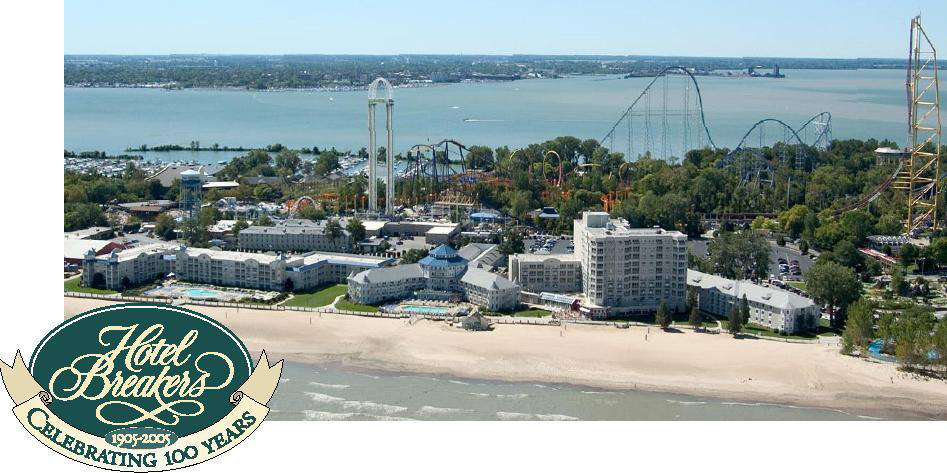 The Hotel Breakers is one of the largest and most beautiful hotels in Ohio.

The expansive hotel sits directly on the Cedar Point Beach offering stunning views of Lake Erie and the park.

With three pools, three stores and four restaurants, an ice cream parlor and a deli, this hotel offers everything that is essential for a fun family vacation.

There are even rooms that are themed to the Peanuts Gang and Snoopy himself can often been seen roaming the halls.

Due to its superb location, bountiful amenities and breathtaking views, Hotel Breakers is the crown jewel of the Cedar Point Resorts.

Bon-Air Annex (Hotel Breakers): In 1925, the Hotel Breakers saw the addition of the Bon-Air Annex.

The exterior of the structure amazingly has only minor alterations in its appearance.

Inside this wing, a drop ceiling has been added to cover the original ceiling, which has pipes running along them.

Celebrating 100 Years of Hospitality.
This lovely hotel first welcomed families to its sandy Lake Erie beach in 1905.

The hotel's original lobby, beautifully decorated with Tiffany stained-glass windows and four-story rotunda, still welcomes guests to this day.

The 650-room Hotel Breakers has entertained such guests as Annie Oakley, John Philip Sousa and United States Presidents Taft, Coolidge, Wilson, Harding, Roosevelt and Eisenhower.

Guests staying at Hotel Breakers have a variety of amenities to enjoy. One of the best advantages to our resort is its location. Guests are within a two-minute walk of Cedar Point, Soak City and Challenge Park entrance gates.

For those guests that prefer not to walk can utilize our Courtesy Van for transport to the gates.
Directly behind our hotel is the warm sunny beach, which extends into Lake Erie. Guests may take advantage of our beach at any time during their dates of stay, including before check-in and after check-out. Public changing rooms, however, are not available.

Guests may also enjoy the hotel's two outdoor pools and spas, as well as the indoor heated pool located in the Tower section of our hotel.

The Hotel Breakers has a variety of dining options within the hotel.
If you forget to purchase a memento during your visit to Cedar Point or forgot an item at home such as a bathing suit, our resort gift shops offer a variety of items.

The Ship's Store has everything such as milk, snacks, and other goodies to Millennium Force t-shirts and other ride memorabilia. Intermissions offers a wide assortment of collectibles and Cedar Point keepsakes. Breakers Boutique carries a line of clothing apparel, bathing suits and towels.

Vatten parken Soakcity ligger nära hotellet och närmast är Bon-Air Annexet där vi bor
Cedar Point Resorts guests can enter the park one-half hour before it's opened to the general public to ride select coasters, including (when available). Top Thrill Dragster and Millennium Force.

During your stay you may pick up an early entrance pass at the front desk. The pass recognizes that you and your party are guests of our hotels/campground and therefore allows you to enter the park prior to the general public.

For entry times during our operating season, please contact our reservations office at (419) 627-2106 or email us.

Bubbles Swim-Up Bar i Soakcity måste provas denna gång av de som får

For Adults Only!

Adults who need a respite from the daily grind flock to Bubble's Swim-Up Bar.

This adults-only refreshment center treats its patrons to cool drinks and hot sports action on televisions positioned above the bar. By the way, did we mention that the bar stools are in the water? You can also check out our hot tub while enjoying your favorite beverage. For guests age 21 and older.

(Must be 21 years old to enter. Proper I.D. required. Infants and small children may not enter.)


Soakcity har massor av banor att testa

Soakcitys mörka banor är inget för de mörkrädda
Information

Öppet

Fre

10.00-22.00

Park karta
Lör

10.00-23.00

Loopar

13

Stålbanor
13+1 dubbel
Km bana

14,5

Träbanor
2
Total höjd

665 m

Totalt
17
Drop höjd

>600 m

Öppet

10.00-21.00
På lördagen kanske vi skall bjuda de äldste på en middag.

5608 Milan Road, (419) 626-4803
ligger en mil bort i Ramada Inn
Web adress: www.wmji.com/roadhouse_site

Theme Park biljetter

Regular All Day

$44.95

Ride & Slide 2-Day

$67.95

SoakCity biljetter

Regular All Day

$28.00

Sen Entré börjar klockan 17.00

Starlight

$15.95
Efter 2 dagar och nätter i Coaster-Mecka är det dags att på söndags morgonen den 19:e åka de 47 milen i mellan Cedar Point och Michigans Adventure.

Resan kommer att ta ungefär 4 timmar om trafiken tillåter.

Cedar Point vy ifrån sjön
RC History

The Three-Way Figure Eight Roller Toboggan was built near the beach in 1902. This roller coaster was forty-six feet tall and had eleven cars on its hilly track. After eight years, the ride was removed due to the addation of a new bathhouse in 1910. The Racer roller coaster took its place, down the beach.

In 1908, the Dip the Dips Scenic Railway was constructed in the center of the midway with eighteen dips. Fifty-three feet in height and 4,200 feet long, this ride was said to go sixty miles per hour. It was later replaced in 1918 by the addition of the Leap Frog Railway.
The Cyclone roller coaster was built in 1929 on the former site of the Racer roller coaster. It incorporated tight turns and steep hills with a seventy-two foot high lift hill.
During the early 1950's, the decaying roller coaster was torn down due to lack of money to refurbish it.

The Blue Streak was added in 1964 where the Monorail once stood.

This ride has a seventy-eight foot high lift hill and extends out 2,400 feet. At the top of the lift hill they built a copula where the car passes through. During its first few years in operation, the ride remained unpainted.

www.thepointol.com/history.html
www.thepointol.com/cponle/then&now/index.html


For the seventh consecutive year, Cedar Point was voted the "Best Amusement Park in the World" in a survey conducted by Amusement Today, an international publication that covers amusement and water park news and trends.
Cedar Point may be best known as the "Roller Coaster Capital of the World" but with its wide variety of 52 other rides, thrill-seekers of all levels are sure to find one that is just right for them.
Cedar Point is home to more thrilling rides than any place else on the planet, boasting an unmatched collection of 68 amazing rides.
From rocking, rolling and rotating to being turned upside down, dropped suddenly or thrust upward at 50 mph, Cedar Point is a thrill-seekers delight!





Ahhhhhhh! Built in 1983, the Demon Drop at Cedar Point simulates a free-fall from the top of a 10-story-tall building. Passengers board four-person cars that move horizontally to the base of the 131-foot-tall tower. The car then ascends to the top of the tower in only six seconds! Once at the top, the car slowly inches forward into the drop area. Riders are suspended there for what seems like an eternity. Then without warning, they plummet 60 feet in less than two seconds before entering a pull-out curve where a computerized braking system slowly stops the car.

Demon Drop is located at the front of the park on the beach side of the midway, just beyond the public picnic shelter.
maXair
Riders on the super-sized maXair will sit in outward-facing suspended seats that form a giant circle of 50 passengers; their legs will dangle freely, and each seat will have an individual shoulder restraint and restraining belt. maXair will let loose by swinging riders back and forth in a seemingly out of control pendulum motion while spinning in a counter-clockwise rotation and reaching a maximum speed of 70 mph. When the pendulum movement reaches its peak, riders will be 140 feet high and experience that coveted feeling of "airtime" – similar to the sensation of weightlessness that is popular for thrill-seekers on roller coasters. The dynamic return drop will generate varying forces on riders depending on their specific position through the clockwise rotation, creating a different ride experience each time.

You spin. You whirl. You rock. You roll. What is it??!! It's Chaos - a triple-spinning thrill ride that opened at Cedar Point in 1997. Rated the "Best New Product for a Major Amusement Park Ride" at the time it was introduced at the Annual Convention and Trade Show of the International Association of Amusement Parks & Attractions (IAAPA), Chaos is the latest in a new generation of midway spinning rides.
Feel the power! Cedar Point's Power Tower thrill ride offers guests two exciting ride experiences to choose from. Located in the middle of the park near the Corkscrew roller coaster, Power Tower is a 300-foot-tall, state-of-the-art adrenaline factory that features two towers which launch you up 240 feet and two towers which blast you down at speeds of up to 60 mph! Built in 1998, the $10 million Power Tower debuted as the tallest ride of its kind in the world.

Power Tower accommodates 48 riders at a time, 12 on each of the four steel towers, seated in groups of four or two. Riders sit in outward-facing seats with their backs to the towers. Over-the-shoulder harnesses secure passengers in open-air seats, which leave their legs dangling freely in the air.
| | |
| --- | --- |
| | Cedar Point amusement park/resort stunned thrill-seekers in 2003 with the park's unprecedented 16th, yes, 16th roller coaster - Top Thrill Dragster. Reaching a stratospheric 420 feet tall and topping out at an unheard of speed of 120 mph, this steel screamer helped Cedar Point reclaim the title of owning the tallest and fastest roller coaster in the universe. |

Utilizing the latest in thrill ride technology,

Millennium Force was the first coaster in the world ever to use an elevator lift system to take riders up a 45-degree angle to the top of its imposing structure. Once there, riders plummet to Earth at a staggering 80-degree angle! Millennium Force broke an astonishing 10 world records when it debuted in May of 2000 as Cedar Point's 14th roller coaster, more than anywhere else in the world.



Riders begin their epic journey aboard this whopping 42-story screamer by securing themselves into ultra-cool trains that resemble top fuel dragsters. The train then moves into a "starting line" position, where it launches forward, reaching speeds of 120 mph in approximately four seconds.

But hold on … this isn't your father's roller coaster. The train then zooms straight up the 420-foot-tall hill on track that rotates 90 degrees, crests the coaster's apex and then free-falls back to Earth, reaching a speed of 120 mph for the second time. As the train races more than 400 feet to the ground, the track twists an unbelievable 270 degrees - what a rush! Riders then return to the station to begin regaling their friends with stories of the greatest ride of their lives


It's a roller coaster … with a twist!
Cedar Point amusement park/resort announced plans in November 2001 to build the tallest and fastest "double-twisting" impulse roller coaster in the world for its 2002 season. Named Wicked Twister, this steel scream machine is 215 feet tall and travels 72-mph.

Using the revolutionary linear induction motor (LIM) propulsion system, Wicked Twister blasts riders out of its station reaching a top speed of 72 mph in a mere 2.5 seconds – propelling forward and backward and up and down a U-shaped track with spiraling 450-degree corkscrews atop each vertical 215-foot-tall tower. This twisted coaster is launched out of the station five times – three forward and two backward!



A classic roller coaster! Built in 1964, the Blue Streak roller coaster is the oldest operating scream machine at Cedar Point amusement park/resort. Standing a majestic 78 feet tall, the Blue Streak, named after a local high school football team, treats its passengers to an exciting ride that features negative G-forces, fast hills and quality "airtime."

Located just off the Main Midway, the Blue Streak has given more than 50.8 million rides since it first debuted 38 years ago. Riders must be at least 48 inches tall.


On your mark, get set, go! The Gemini is the only roller coaster at Cedar Point amusement park/resort that has two trains running simultaneously on parallel tracks. Riders on either the red or blue train cheer as they race over tall hills, around quick turns and down fast straightaways.

Built by Arrow Dynamics in 1978, the Gemini is one of the top ride givers among the park's 68 rides and 16 roller coasters every season.

The Magnum XL-200 at Cedar Point amusement park/resort is considered by many to be one of the ultimate scream machines on the planet. In 2001, the Magnum XL-200 was voted No. 3 in the "Best Steel Roller Coaster in the World" category in a poll conducted by Amusement Today, an international publication that covers amusement and water park news and trends. Standing 205 feet tall, this fan favorite provides riders with unparalleled thrills, action-packed hills and tons of "airtime!" ride.
A traditional out-and-back "hyper-coaster," Magnum's 5,106 feet of red steel tubular track runs through Soak City water park and along the Lake Erie shoreline, giving riders spectacular views to go along with magnificent hills and blazing speeds.

FACT OR FICTION?

Contrary to popular belief, the Magnum XL-200 is not sinking and it is not being sold. It is speculated that the rumors originated from an April Fool's Day spoof. An Ohio newspaper printed the falsehoods as part of a joke that snowballed and escalated with the arrival of the internet.


A standing ovation! Cedar Point amusement park/resort, home to the largest collection of rides and roller coasters on Earth, is also home to Mantis, one of the tallest, steepest and fastest stand-up roller coasters in the world.

Towering a whopping 145 feet above the ground, this gigantic steel scream machine takes its passengers along 3,900 feet of twisting, turning track at a hair-raising top speed of 60 mph! Passengers board high-tech trains that send them upside down four times - all while standing up!

"Excuse me while I kick the sky!" Raptor, at Cedar Point amusement park/resort, is one of the tallest, fastest and steepest inverted roller coasters on the planet. This popular thrill ride was recently voted No. 8 in the "Best Steel Roller Coaster in the World" category in a survey conducted by Amusement Today, an international publication that covers amusement and water park news and trends. Cedar Point's own Millennium Force and Magnum XL-200 were voted No. 1 and No. 3.

From the creative minds at Bolliger and Mabillard (B & M), Monthey, Switzerland, this menacing bird of prey takes riders on a 2-minute, 16-second-long journey along 3,790 feet of bright green track. Raptor features a "cobra roll," a thrilling design element that flips passengers over, spirals them upside down into a 180-degree roll and repeats the twisting movement in the reverse order.
| | | | |
| --- | --- | --- | --- |
| | You'll flip over this coaster! The Corkscrew roller coaster at Cedar Point amusement park/resort was the first coaster ever to span a midway and the first to flip its passengers upside down three times! Debuting in America's Bicentennial year of 1976, this patriotic scream machine proudly displays its red, white and blue trains as they twist and turn above the crowds standing in awe on the midway below. | | Dispatch master transport … I'm losing control! Passengers aboard the Disaster Transport roller coaster are treated to a unique ride experience - complete darkness! This enclosed scream machine is unlike any of the other 15 roller coasters at Cedar Point amusement park/resort in that it is completely enclosed and it does not run on a track! Instead, Disaster Transport runs on a 1,932-foot-long steel trough. Riders board transports that rely on gravity and pure speed to complete the dark journey. |
| | | | |
| --- | --- | --- | --- |
| Conquer the dragon! Iron Dragon, a suspended roller coaster at Cedar Point amusement park/resort, offers thrill-seekers an experience like no other. Passengers are suspended below the track in four-person carriages that swing above the treetops and over a misty lagoon. Built by Arrow Dynamics, the same company that designed the Cedar Creek Mine Ride, Corkscrew, Gemini and the world-famous Magnum XL-200, Iron Dragon gives its passengers the sensation of flight as they travel over the 2,800 feet of red track. | | A wild "woodie." The Mean Streak roller coaster at Cedar Point amusement park/resort is as much a marvel to look at as it is a joy to ride. Built from 1.7 million board feet of treated Southern yellow pine and standing a monumental 161 feet tall, the Mean Streak is one of the two wooden roller coasters that grace the skyline of "America's Roller Coast." | |

Feel the wind in your face! Guests can take a trip back to the gold rush days of yesteryear when they board the Cedar Creek Mine Ride roller coaster at Cedar Point amusement park/resort. Located in rustic Frontiertown, this scream machine takes its passengers over hills and around a final turn that will leave them screaming for more!


Quick turns and frequent dips are what's in store for riders on the WildCat roller coaster at Cedar Point amusement park/resort. Located across from the Iron Dragon roller coaster, the WildCat features individual four-person cars that speed around 1,837 feet of steel track.
WildCat is the third oldest operating roller coaster at the world-famous amusement park.
| | | | |
| --- | --- | --- | --- |
| Fun for the entire family! Located in Camp Snoopy, Woodstock Express is a roller coaster built especially for children and their parents to ride and enjoy together. Passengers join a Woodstock replica, just one of the lovable PEANUTS characters and Snoopy's feathered friend, as they travel through quick dips and around fast turns. With a first hill height of 38 feet and a maximum speed of 25 mph, Woodstock Express provides the perfect training ground for the future coaster enthusiast. | | A great beginner roller coaster! The Jr. Gemini, located in the back of the park across from its adult namesake, is a family roller coaster that features a first hill height of 19 feet and a top speed of 6 mph. Special seats make it possible for parents to ride side-by-side with their children. | |
| | | | |
Cedar Point Current Roller Coasters: 16
Coaster
Type
Design
Opened
Höjd
Drop
Längd
Loop
Typ
Kommentar
Builder
Dessigner
Status

Blue Streak

Wooden

Sit Down

5/23/1964
23,8
21,9
779,7
0
Out & Back

John Allen var med

P T C

Frank Hoover

Operating

Cedar Creek Mine Ride

Steel

Sit Down

5/24/1969
14,6
13
774,2
0

Mine Train

Så där

Arrow

Ron Toomer

Operating

Corkscrew

Steel

Sit Down

5/15/1976
25,9
24
624,8
3

Custom Looping

Snyggt byggd

Arrow

Ron Toomer

Operating

Disaster Transport

Steel

Bobsled

5/11/1985
19,2
19
588,9
0

Swiss Bob

Inomhus med 3D

Giovanola

Intamin AG

Operating

Gemini

Steel

Sit Down

1978
38,2
36
1199,4
0

Twin

Då världens högsta m.m

Arrow

Ron Toomer

Operating

Iron Dragon

Steel

Suspended

1987
23,2
853,4
0
Hängande
$4,000,000

Arrow

Ron Toomer

Operating

Jr. Gemini

Steel

Sit Down

1979
5,8
135
0

Kiddie

Har vi inte åkt än

Intamin AG

Operating

Magnum XL-200

Steel

Sit Down

5/6/1989
62,5
59,3
1556,3
0

Hyper Coaster

Då världens högsta m.m

Arrow

Ron Toomer

Operating

Mantis

Steel

Stand Up

5/11/1996
44,2
41,8
1188,7
4

Stand-Up Coaster

Då världens högsta m.m

Bolliger & Mabillard

$12,000,000

Operating

Mean Streak

Wooden

Sit Down

5/11/1991
49,1
47,2
1654,1
0
Mega träbana
Rätt kass

Dinn Corporation

Curtis D. Summers

Operating

Millennium Force

Steel

Sit Down

5/13/2000
94,5
91,4
2010,2
0

Giga Coaster

Då världens högsta m.m

Intamin AG

Büro Stengel GmbH

Operating

Raptor

Steel

Inverted

5/7/1994
41,8
36,3
1155,2
6

Inverted Coaster

Då världens högsta m.m

Bolliger & Mabillard

$11,500,000

Operating

Top Thrill Dragster

Steel

Sit Down

5/4/2003
128
122
853,4
0

Rocket Coaster

Världens högsta

Intamin AG

Büro Stengel GmbH

Operating

Wicked Twister

Steel

Inverted

5/5/2002
65,5
62,8
220
0

Twisted Impulse

Skuvande inverterad

Intamin AG

$9,000,000

Operating

Wildcat

Steel

Sit Down

1979
15,2
14
559,9
0

Wildcat

Super 8

Schwarzkopf

Operating

Woodstock's Express

Steel

Sit Down

5/10/1999
13
11
335
0

Junior Coaster (335m)

Har vi åkt 1 gång

Vekoma

Operating