THE ATOMIUM
Atomium uppfördes till världsutställningen 1958. Den föreställer en järnatom i en förstoring på 165 miljarder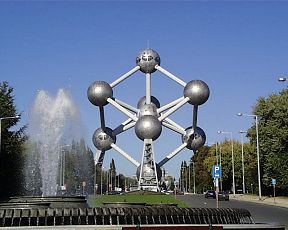 This monument from 1958 has become the Eiffel Tower of Brussels. The Atomium is the visual representation of the concept of an "atom". It symbolizes an elementary iron crystal with its 9 atoms and magnified 150 billion times. It honored the metal and iron industry and the belief in the atomic power. The architect was André WATERKEYN. It took 18 months to conceive and another 18 months to construct. The monument is coated with aluminum, weighs 2.400 tons and<<Selectie in document>> is 102 meters high. Each sphere has a diameter of 18 meters. An elevator takes visitors to the upper sphere where one can enjoy a panoramic view of the Heysel area and (if the weather is good) the city of Brussels. There is also a good buffet-restaurant (Chez Adrienne) in the upper sphere. In the other spheres expositions are organized. They can be visited by means of escalators. In the coming years the monument will undergo cleaning and restoration.
Location
Eeuwfeestlaan/ Boulevard du Centenaire 1020 Brussels (Laken)
Opening hours
Sept. to March: 10 a.m. till 5.30 p.m. April to August: 9 a.m. till 7.30 p.m.
Admission
Adults : 5,45 € (Euro) per person, Children (under 12) : 3,97 € (Euro)
Groups (as from 20 persons): 4,46 € (Euro) per adult person, 3,47 € (Euro) per child under 12
Senior citizens : 3,72 € (Euro)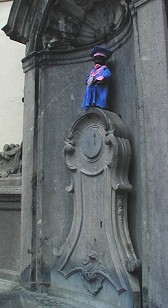 MANNEKEN PIS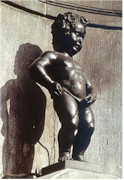 Manneken Pis står på Stoofstraat, ca 100 meter bakom rådhuset. Den lilla bronsstatyn (av Jérome Ducuesnoy, 1619) påstås symbolisera brysselbornas brist på högaktning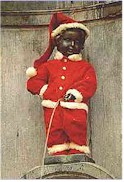 New York has the Statue of Liberty, Copenhagen has the mermaid and Brussels has the ...... Manneken Pis. This statue of a little boy in a somewhat compromising position has since several centuries been a major tourist attraction in the city. When most people see our 'manneken', the first reaction is always one of amazement: "Look, how small he is ! Why does everybody want to see him ?" The people of Brussels, however, accept him the way he is. After all, it doesn't always have to be big to be beautiful. Imagine he would be the size of the Statue of Liberty : Brussels would be continuously flooded !