Visit the new themed areas in Six Flags Belgium.

Go to France and ride the 2001 wooden coaster, Loup Garou.

The other big addition can be found in 'Thousand and One Nights': let's have fun in Cobra, a Boomerang coaster, and Palais dus Génie, a Mad House.

Other new themed areas are Bugs Bunny Land (for the children), Italy and Caraibes.

Other big rides in the park are: Turbine, Vampire and Dalton Terror.

You want water, go into Radja River, Flashback, or pay a visit to Aqualibi.
Challenge of Tutankhamon takes riders on an adventure-filled journey deep into unexplored passageways of King Tutankhamon's tomb: Passageways guarded by the Egyptian god Seth, Lord of Disaster and Chaos, and his army of mythological gods and demons.
Undeterred by warnings of the ancient curse, visitors follow a 3,000 year-old map, recently discovered by noted archaeologist Dr. Xavier Gaudet, in hope of finding a wealth of ancient treasure–perhaps even surpassing that found during Howard Carter's 1922 expedition.
.
With the possibility of grave-robbers looming, and of collapsing walls destroying the treasures, the race is on to rescue the golden artifacts for safekeeping at the Cairo Museum of Antiquities. But once inside the labyrinth, the Curse becomes a reality: a nightmare of frightening creatures, sounds, scents and mysterious apparitions

Experience: This action-packed adventure tests guests on their courage in facing huge mythical creatures and their skill when using their laser beam Ankhinator in overcoming obstacles to save the ancient treasures of Tutankhamon from destruction.

Design: Sally Corporation (The Great American Dark Ride Company) Jacksonville, Florida, USA
Facility Size: 17,185 sq. ft.; 1,597 s.m.
Covered Queue: 2,290 sq. ft.; 213 s.m.
Animatronics: 54
Targets: 130 (interactive)
Ride Cars: 13, 6-passenger: ETF Ride Systems "Multi-Mover"
Capacity: 900 p.p.h.
Special: Three possible endings. Multi-lingual soundtracks and signage.
Flash Back

Try out this mighty river. In the dark you are going your way up, and at the top, you get turned around, and pushed backwards for the drop.

You continue your journey with another small drop, and finally a big wet drop!
When you visit Aqualibi, it's summer all year round.
Looking for a relaxing tropical environment? The lush greenery will guide you to an exotic island where the water temperature is kept at a constant 29°C ! The Laguna Verde and Jacuzzi will tempt those who want to feel invigorated.
As for intrepid heroes, they can also get their thrills here by daring to cross the jungle on the Colorado or Rapido, or by tackling the two 140-metre long giant boas.
For Hygiene & safety reasons, bermudas and shorts are not accepted. Only "Speedo-style" swimming trunks are authorized




This is yet another Vekoma product-a more recent one this time (2001)-and that accounts for its popularity, making it the champion in the longest waiting lines category.

To be honest, the Werewolf is much more exciting than its second-to-last placing in our rankings would suggest. This rank is due, in fact, to the quality of the other rides.

It is also due to the inevitable competition with his twin brother Wild Wild West (made by Roller Coaster Corporation of America) at Warner Bros. Movie World Germany, another Six Flags park.



Klicka för stora bilder

Loup-Garou (Varulven)

Both roller coasters are made of wood and cover a distance just over a kilometre; both have a height of about 30m and a speed of 80 km/h.
They have the same impressive structures and the vibrations during the ride that are hardly reassuring: in short, all the characteristics of a wooden coaster.
But it is the originality of the path the ride takes that places Werewolf's German alter ego on a slightly superior par.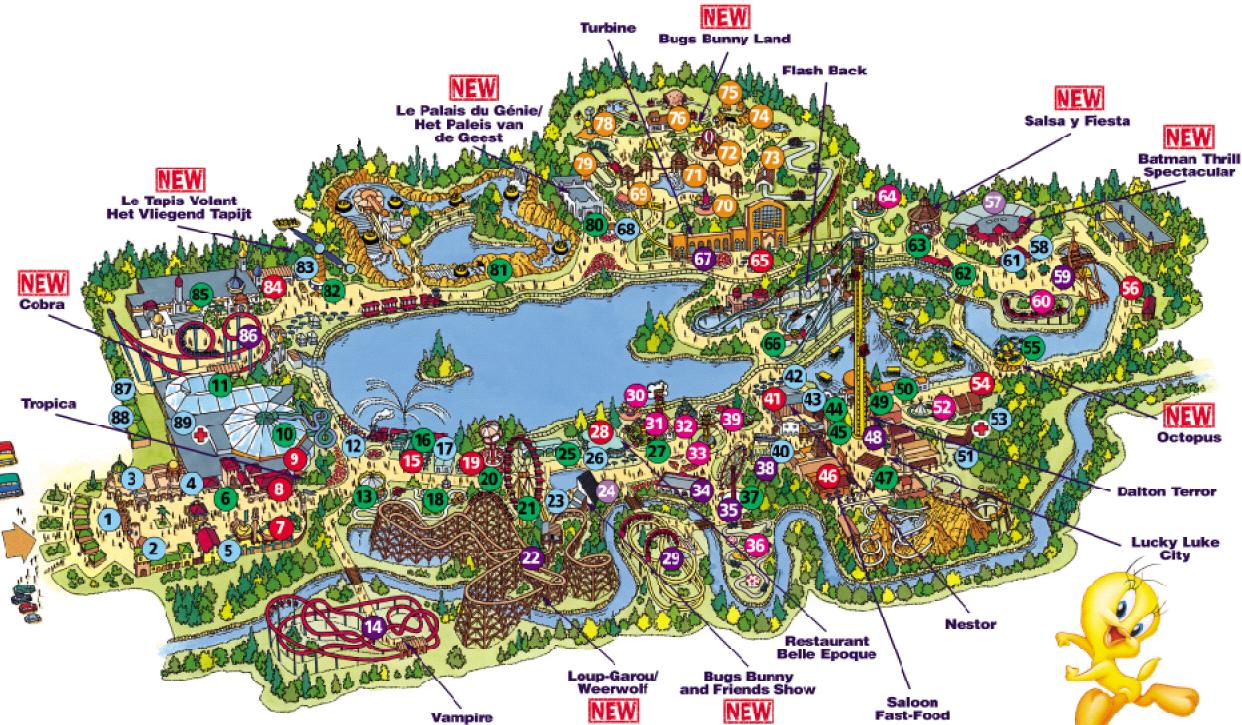 Six Flags Belgium

Länkar
Vår Coaster info Six Flags Belgium
Roller Coaster Databasen
Officiell Six Flags Belgien
Theme Park Vision Six Flags Belgien